Exploring the wonders of Space is fascinating for people of all ages – especially when you can ask an astronaut about their own experience.
That's exactly what young people from the 8th Portsmouth Scout Group (Southsea) got up to when they were given a surprise visit by Tim Peake, UK astronaut and Scout ambassador.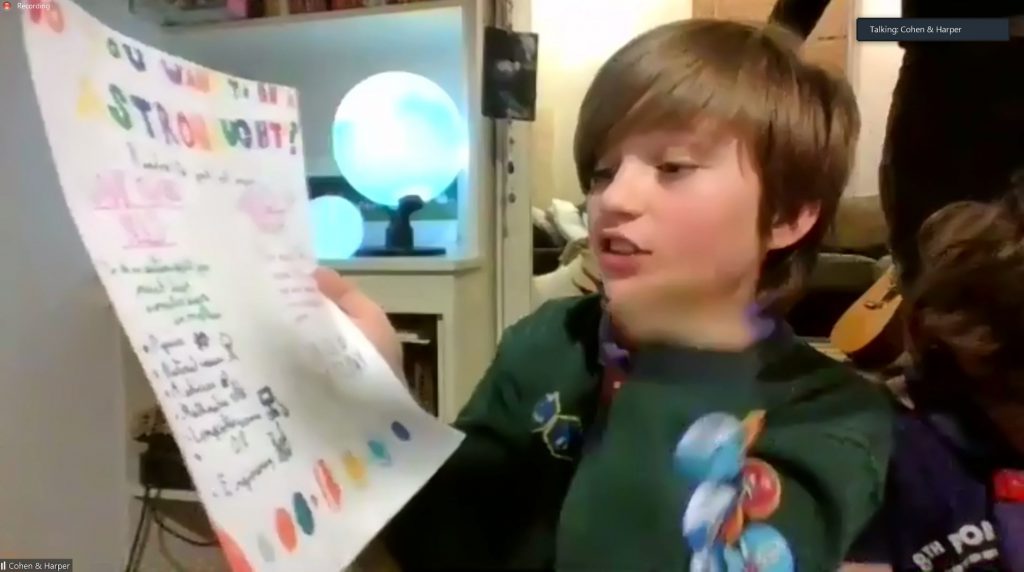 The Zoom visit, which took place on 18th February 2021, saw more than 30 young people and 6 adult volunteers beaming with smiles as Tim jumped on to thank volunteers for all they have been doing to teach young people skills for life during the pandemic.
He said: "I want to say a big thank you to all the volunteers who have been keeping these online Scout meetings going through this period of lockdown.

"I know it's not easy doing all these Scout meetings by Zoom. You guys are doing the right thing keeping in touch, staying in touch with friends, and thank you to the adult volunteers for everything you do."
Tim joined in the fun, answered questions and thanked the volunteer team for their amazing work.
While face-to-face meetings have been suspended and meetings have taken place online, volunteers from the group have coordinated Space themed sessions, various team-building activities, and have engaged with The Great Indoors throughout the pandemic.

Ben, a Cub Scout, drew a poster designed to recruit astronauts. He based his poster on Tim Peake saying: "Tim Peake is my favourite astronaut and I think we need more people like him to go to space."
Mr Peake did compliment Ben's posters pinned behind him on his was and compared them to the artwork Tim had on his own wall.
When Tim was asked about his favourite memory of the Scouts, he said: "I have always been a fan of the outdoors and, frankly, if I was outdoors I would be happy doing anything.
"I know that it has been a real struggle [to do activities outdoors] in the last year, but as a Scout, if I was camping, lighting fires and going on hikes then I was happy.
"As a young teenager, one of my most fun things was doing a night hike and you were able to walk across the South Downs or wherever you may be so I encourage everyone to engage with a night hike like that."
Youngsters from both the Cub Scouts and Scouts section were on the call concluding their space-themed series in a way they'll never forget.
Words by Sam Poole