Four Scouts have received special awards for their efforts in fundraising to help those most vulnerable in our society, locally and globally.
The Scouts, all part of the 3rd Bramshill group in Yateley Green, received their Commissioner's Commendation Awards for their efforts on 16th October.
Helping those across the world.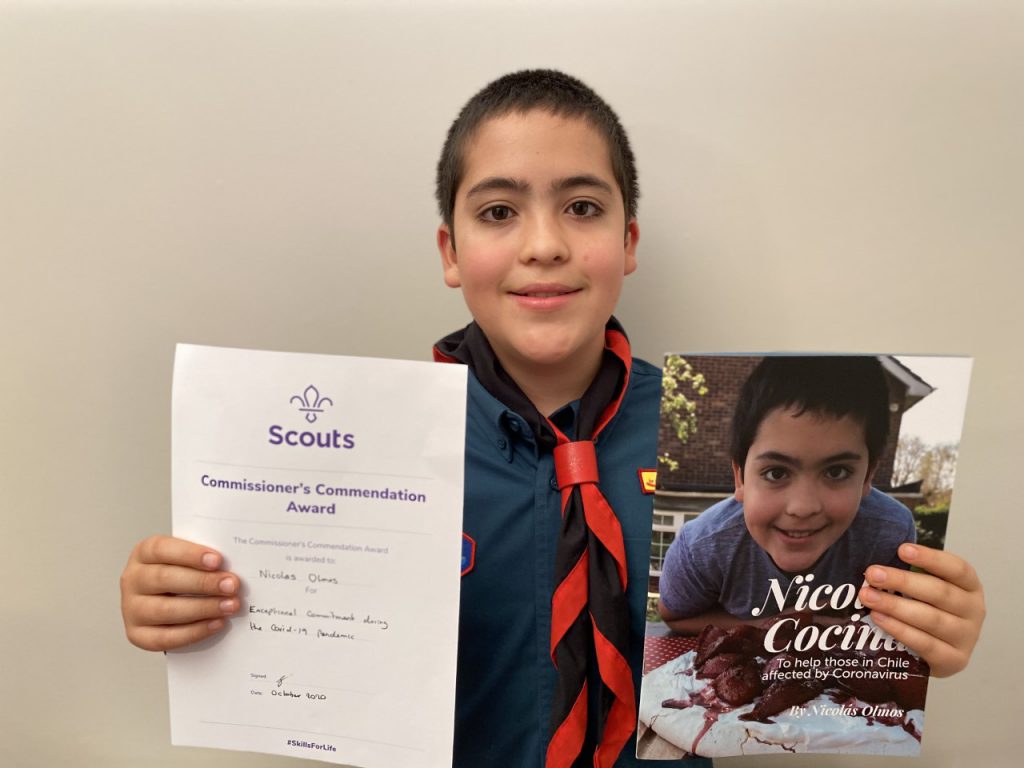 Nicolas Olmos, an 11 year old Scout, has spent months of hard work creating a recipe book so he can raise money for some of the poorest families in Santiago, Chile who have been hit hard by the coronavirus.
He has been personally affected by the pandemic as his Dad is Chilean and lives in the country. Due to travel restrictions in both countries, he has not been able to see him.
To reach the most people, Nicolas reached out and partnered with the Anglo Chilean Society in the UK. All the money raised from the sale of the cook book went to a charity so they can buy food and organise food kitchens.  You can find out more and donate at www.anglochileansociety.org/nicolascocina
Cycling to success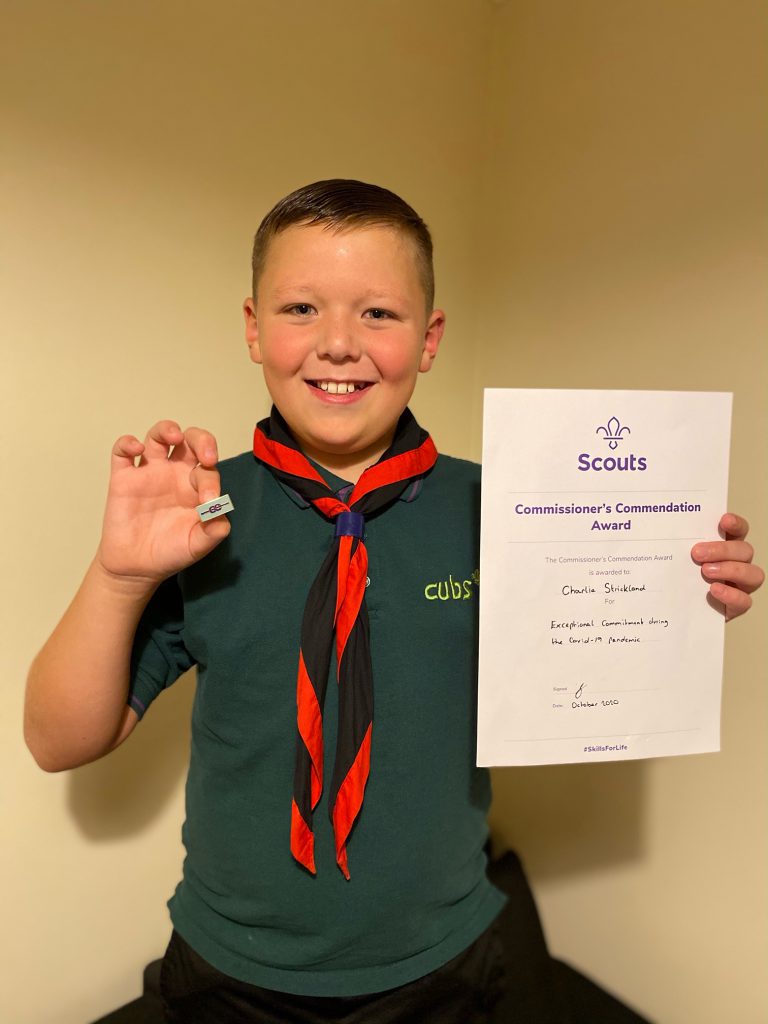 The second award went to Charlie Stickland, a Cub Scout who has cycled over 200 miles during June. 
In all weathers and with lots of different family members there joining in, he completed a series of rides, clocking up between 10-20km each ride towards the main target.
Charlie wanted to raise money for Waverley Grange Care Home in memory of his Uncle Fred who recently passed away.  From an initial ambitious target of £100 he has smashed through it. By the time of his award, he had raised £943 and that keeps climbing!
You can see pictures of his cycles and donate to his cause now at www.justgiving.com/crowdfunding/cstickland 
A marathon effort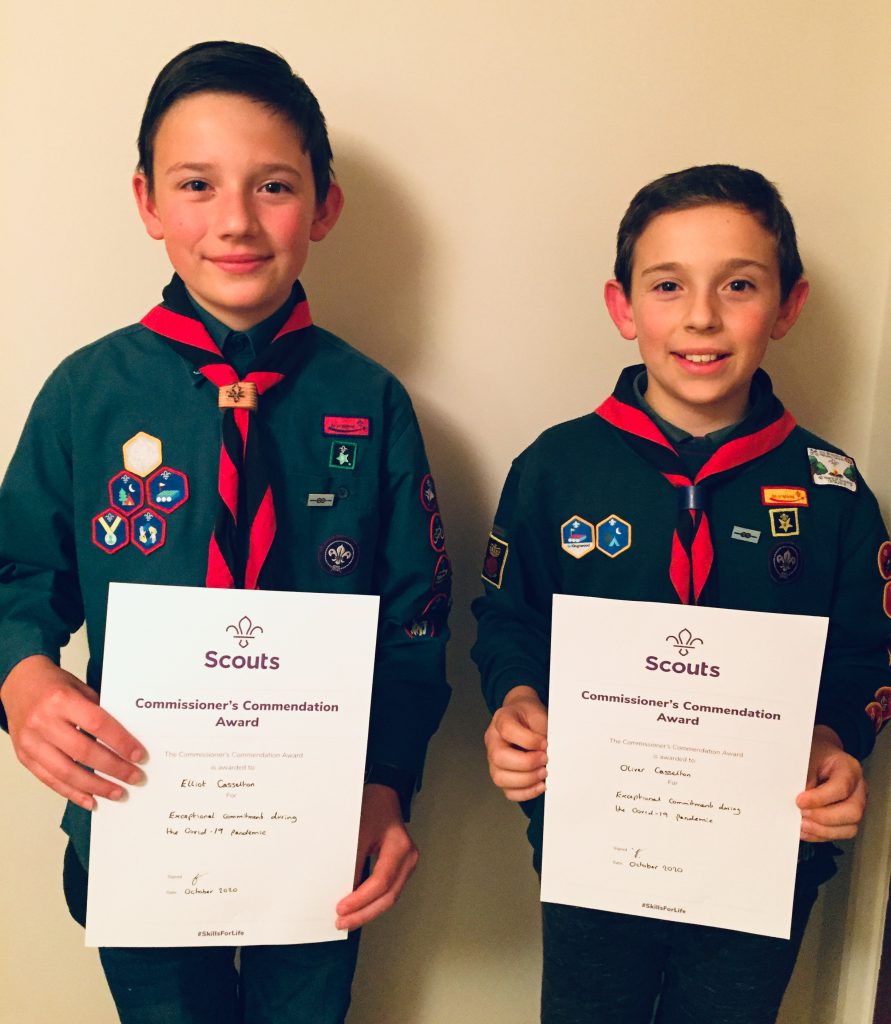 Our final shout out goes to brothers Elliot and Oliver Casselton, a Scout and Cub Scout respectively, who took on a literal marathon task.
With charities across the UK facing an uncertain future with less fundraising than usual and more people to help than ever before, they took on the 2.6 challenge using their skills and love of music.
Along with their parents, they played 26 charity concerts (a marathon) for the Music in Hospitals and Care charity. A great way to bring music and happiness to those most vulnerable and lonely during the pandemic.
This amazing family effort raised a fantastic total of £1,162, over four and half times their starting target of £260. You can find out more and donate at www.justgiving.com/fundraising/the-casselton-s-2-6-challenge
Three great causes have benefited, plus each Scout was unaware that others were also moved to help others affected by Coronavirus.
Ray Bunce, lead volunteer for their group said:
These four Commissioner's Commendation Awards are a special local award for members that make a good contribution to Scouting. It can be given to young people as well as adult volunteers and is a rare award in the movement. All four were given their award during the group's virtual AGM on the 16th October.
Make a difference today and get involved in the Scouts where you live by finding your local group today. Plus volunteer and help others make a difference.