The Chief Scout Bear Grylls has paid tribute to an 'incredible' volunteer who was instrumental in the opening of a new Scout activity centre last weekend.
Lyn Darbyshire, who was the group scout leader for the 2nd Chandler's Ford Scout Group (Ramalley), died earlier this year after a short period of declining health.
After years of campaigning for grants for the build, and an endless determination to bring people from within Scouts and the wider community together to complete the project, Lyn's vision became a reality shortly after her death.
Bear Grylls said: "I'd like to take this chance to say a special thank you to your late group scout leader Lyn Darbyshire, who's going to be receiving her Silver Wolf posthumously
"She sounds like such an incredible lady – somebody very special to so many of you.
"It's an amazing new home for your group, I know this has been obviously a huge team effort to get to this stage, and huge credit to you for completing it and especially during the pandemic.
"Scouts and volunteers like you do so much to support our communities and I think what you've done shows us all the power of Scouts working together and never giving up."
The centre was officially opened on Saturday 20th November with an unveiling of a plaque by the Hampshire Scouts lead volunteer, the County Commissioner Martin Mackey.
Martin also posthumously presented Lyn's Silver Wolf award – the highest accolade for any adult in Scouts – to her 'Scout daughter' Heather (Baloo) who was wearing Lyn's shirt at the event.
Tea, coffee, and cake were enjoyed throughout the day, along with activities for young people who are members of the group.
Peter Darbyshire, Lyn's husband and acting group scout leader of the group, applauded the work of everyone who made his late wife's dream become a reality.
He said: "I'm feeling excited but with a tinge of sadness that Lyn couldn't be here. But, generally, overjoyed that we have got our new headquarters. It's open, the young people are enjoying the activities they deserve.
"It's her dream come true and I am overjoyed that it's happened but it's just sad Lyn isn't here to see it. She was a formidable character, people would describe her as someone you couldn't say no to and I think it's in that description she was so lovely and had time for everybody."
The building that stood before the new centre was last refurbished in 1982. Despite it being safe to use, it required much repair and modernisation.
In 2013, an old oak tree fell on the previous HQ which sped up the desire to rebuild something which was fit for a modern purpose for all.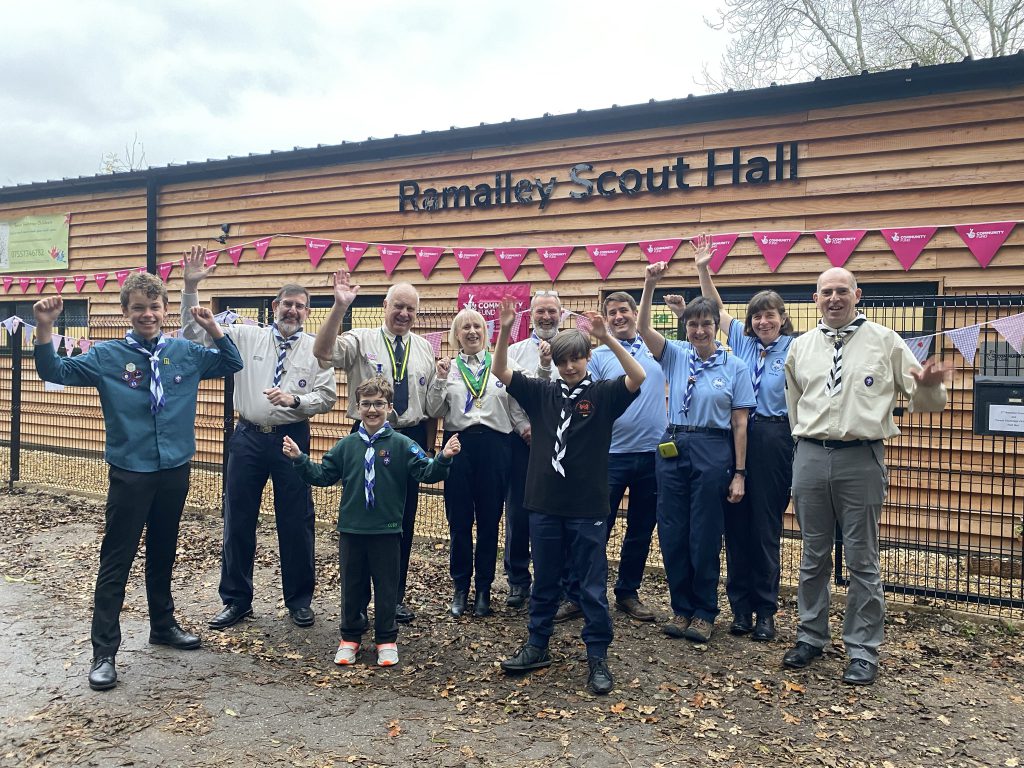 Steve Brine, the MP for Chandler's Ford, had met Lyn several years earlier to be introduced to her vision of a new centre.
He said: "When Lyn invited me down here to see the old hut and tell me what she wanted to do, I got the impression she wasn't asking and was very clear what was going to happen. I never doubted for one moment it wasn't going to happen.
"There was a lot of hard work, a lot of fundraising, but it has happened. That is what the community is here in Chandler's Ford – they value their community and they value their Scouting.
"If you put that together, which this building is; it's a community facility as well, then you fall onto the Holy grail."
Hundreds of people, including local businesses, were engaged with the project in some way. Most notably:
Dr Rickenbach, of St Francis & Park Surgeries, who donated funds to the project. They were Lyn's boss for many years before she retired from nursing
Chris Benham, from Crown Carpentry, who is one of the development team and has been involved since the planning stage. Chris also worked as a carpenter on the build
Erin Cuffley, owner of forest Footsteps Preschool, they use the building during the day and have been part of the development team since the planning stage
Neighbouring Chandler's Ford Scout Groups, who have supported the group through storing equipment, providing loans and donations, and organising fundraising events for the build
Graham Wade, managing director of Draper Tools, who supported the group through donations and staff volunteer time to paint, pointing of the paths, and garden clearance.
Text by Sam Poole.