Celebrating the amazing contribution of the NHS and scientists, helping a community festival and opening a new sports centre. Three ways one Scout Group have played their part of the community.
The young people, leaders and the families from 4th Bramshill Scouts have certainly been busy over the past few weeks supporting the local community of Hartley Wintney.
Giving it a shot at festival.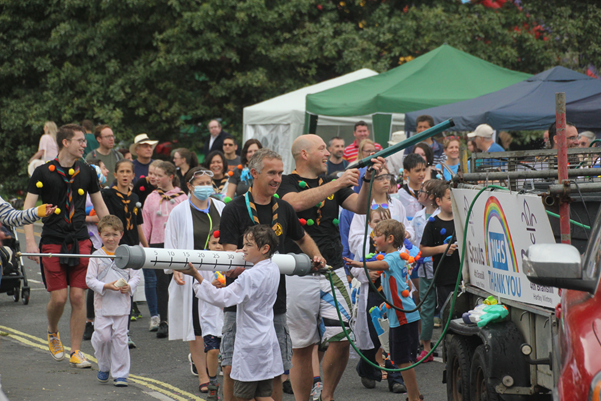 On Saturday 4th September, the a buzz was in the air as people from Hartley Wintney come together for the village festival, the first since 2019. With a theme of "Celebration", Scouts of all ages took to the streets with water pistols and costumes to celebrate the NHS and those who created the vaccine.
Young people from all sections dressed up as doctors, nurses and scientists to celebrate those key workers who have worked tirelessly throughout the pandemic. Two giant water-squirting syringes and plenty of water pistols took on the crowds. However, they met their match when the group came face to face with the Hartley Wintney firefighters. Their big hoses won out, leaving a good many very soggy young people at the end!
The icing on the cake was when the Scouts were awarded first prize for their efforts.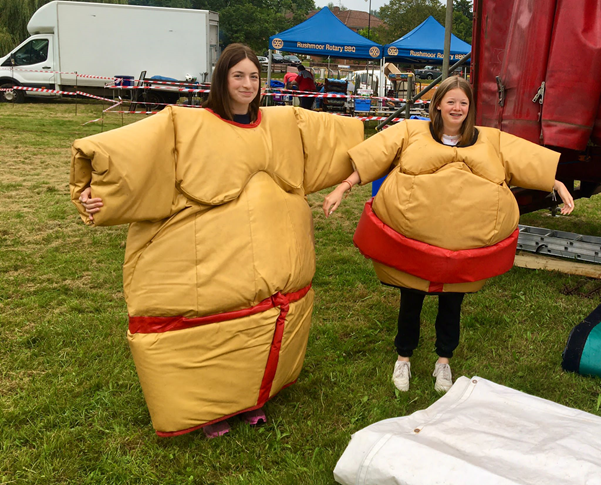 Alongside the fun, 4th Bramshill played a big role in running the festival alongside the Rotary Club of Hart. The older Explorer Scouts and Scout Network worked tirelessly from first thing in the morning to last thing at night, setting up stands, helping stall holders and clearing everything away. The parents and younger Scouts offered sumo wrestling, a bouncy castle, the ever popular Belgium Beer tent and tomahawk throwing to wow the crowds.
Anyone for a picnic?
On Saturday 18th September the group were out in force again. This time, the event was the Hartley Wintney Community Picnic and Annual Awards Ceremony. It's a chance to shout about the people, groups and businesses that have made a difference. Plus the new Lucy Pygott Sports Centre opened for all to use in the community.
The Scouts ran a BBQ, bouncy castle and pizza stall, as well as helping with set up and tidying up until late into the evening. Plus the event celebrated some of the group's volunteer leaders who received Community Awards. Congratulations to John Carlisle, Rory Wells, Paul Leader, Claire Stratford and Philly Wells.
Well done to all the young people, parents and volunteers who helped make these events happen. You're shining examples of our Scout values!
Want to find your local group? We've got you covered on the Scouts website. Or volunteer with us now.