Great Scout activities can only happen every day thanks to thousands of volunteers across the county. As well as the front-line leaders helping our sections, there too are the Scout Active Support units who help the Scout movement in other ways.
One of these is Hampshire Scout Heritage who tell the rich story of Scouting and how far we have come. Plus they allow our Scouts to get hands on with history and pass those stories onto a new generation.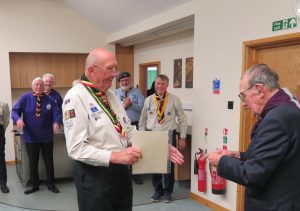 In a short ceremony, in the heart of Hampshire Scouts at Ferny Crofts Scout Activity Centre, three volunteers were honoured for their hard work and efforts in bringing this history to life by Hampshire Scouts Vice-President and Ambassador for Hampshire Scout Heritage Roy Farmers.
First, Richard Spearing, from City of Portsmouth Scouts, received his 50 year Long Service Award.
Additionally, John le Riche, from Winchester Scouts, was presented his 60 years Long Service Award. Both were thanked for their service in inspiring the new generation of Scouts and young people.
"An integral part of the Hampshire Scout Heritage team"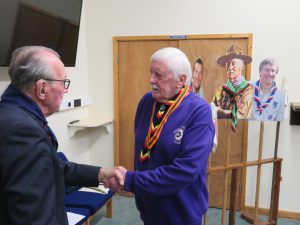 Brian Calver, volunteer with New Forest Scouts, was presented the Bar to the Silver Acorn. Presenting the Good Service award, Roy Farmers commented that:
"Brian has been an integral part of the Hampshire Scout Heritage team. Brian's passion is to ensure everyone, young and old, locally and nationally, gain a better understanding of Scouting's history. He's played a key role in helping Hampshire Scout Heritage go from strength to strength."
He also does this to visitors from across the world as a member of the Brownsea Island Heritage team, telling the story of Scouting's first days to the thousands of visitors to the first Scout campsite in 1907. He was also key in the move of the collection from an office, to a new centre at Ferny Crofts open to everyone.
"You're my third family"
Rounding off the event, John le Riche received one of Scouting's highest awards. The Silver Wolf is the unrestricted gift of the Chief Scout, and is only awarded for service of a most exceptional nature.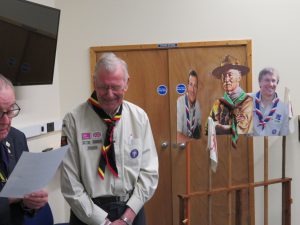 John's Silver Wolf recognised over 60 years of good service within both Winchester and Hampshire as a whole. He has been a lead volunteer for Winchester, had a go at nearly every role in his local group and made an impact nationally too in organising national events and coordinating with Scout Fellowships. Speaking while presenting his award, Roy Farmers commented:
"John's service and character have been exceptional and deserves acknowledgement at the very highest level. He proved integral with the effort to set up the new Hampshire Scout Heritage centre and museum at Ferny Crofts. He was especially involved with designing the museum's layout and the collections that sit there. Given the exceptional standard of support John has given to Scouting throughout his long and distinguished volunteering I'm proud to present this award."
John also volunteers outside of Scouting too, helping vulnerable members of the community in Winchester, organising community events and trips.
Speaking after receiving his award, John said: "I want to say thank you to all of you for being so supportive. This is my third family, with my real family and church being the other two. From the bottom of my heart thank you."
Find out more about the Story of Scouts

Hampshire Scout Heritage tell the story of the Scouts in Hampshire throughout the year. You can find them at their Centre at Ferny Crofts Scout Activity Centre and at large events.
They are always looking for new members to help tell the story of Scouts, including those just beginning to write their own Scout story. Find out more on their website and Facebook page.
Words by Steven Osborn