Young people from every corner of the county came together to celebrate those who achieved one of the highest awards in Scouting.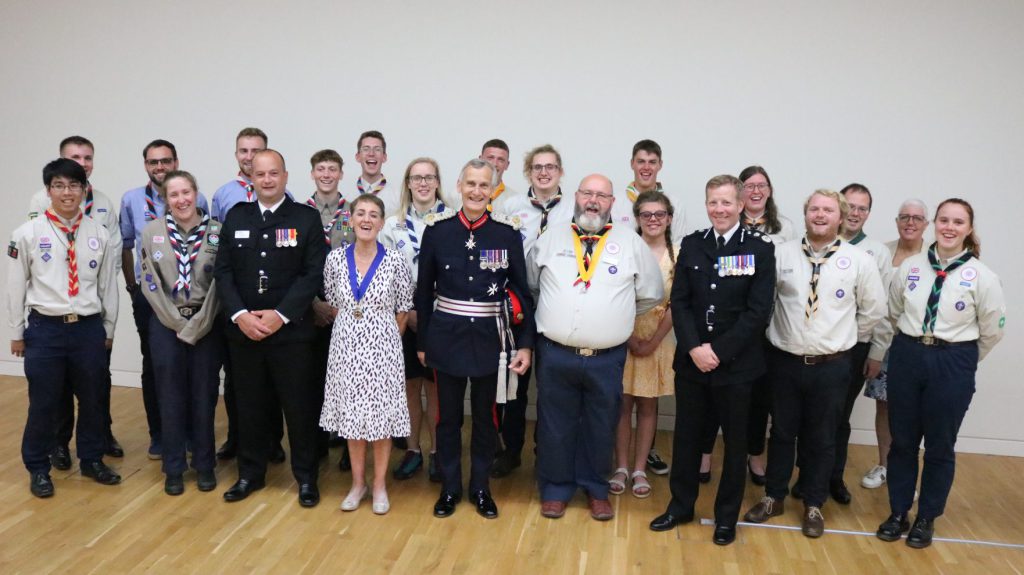 Attended by His Majesty's Lord Lieutenant for Hampshire, Nigel Atkinson Esq, as well as other dignitaries from the County, the last few Queen's Scouts and the first King's Scouts were presented their certificates and, in some cases, award badges at a ceremony in the heart of the county at Ashburton Hall, Winchester.
The ceremony was attended by the young people, their families and dignitaries including Scott Chilton, Chief Constable for Hampshire and Isle of Wight Constabulary, Ben Allen, Area Manager for Hampshire and Isle of Wight Fire and Rescue Service and Cllr. Angela Clear, the Mayor of Winchester.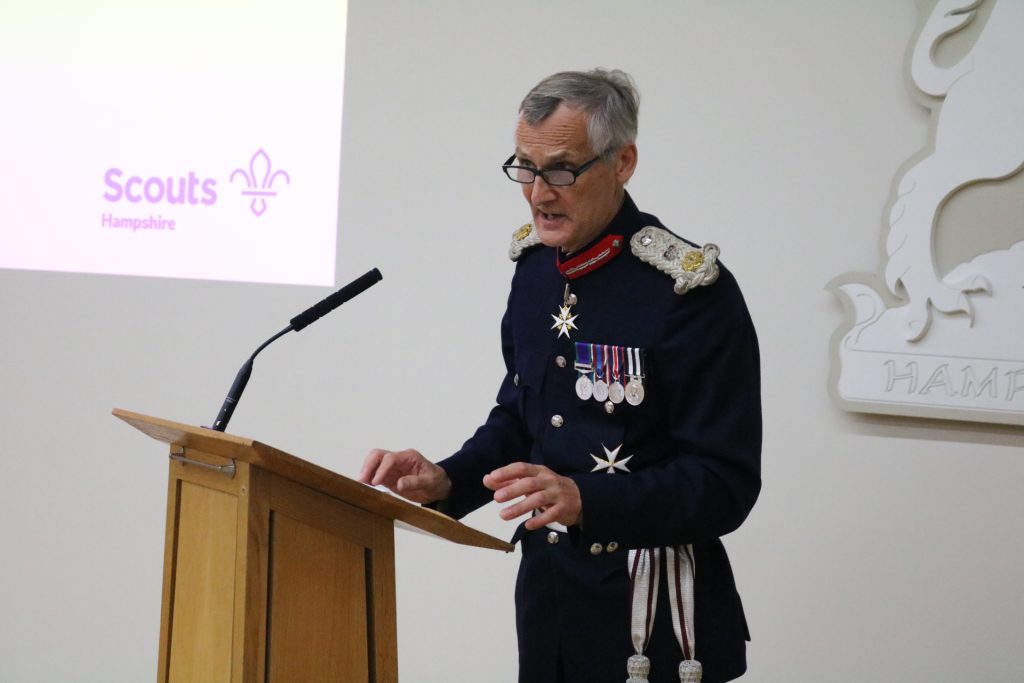 His Majesty's Lord Lieutenant for Hampshire, Nigel Atkinson Esq, said
I need to thank the leaders who help and guide these young people through their awards with energy, determination and diligence. I also want to congratulate each and every one of you for completing these challenging awards. Very few people complete challenges such as these so you are some of a very select bunch.
The presentation saw Alasdair West from Denewulf district, covering Fareham and the wider Meon Valley, presented the very first King's Scout award and certificate from the Lord Lieutenant. He said about his award: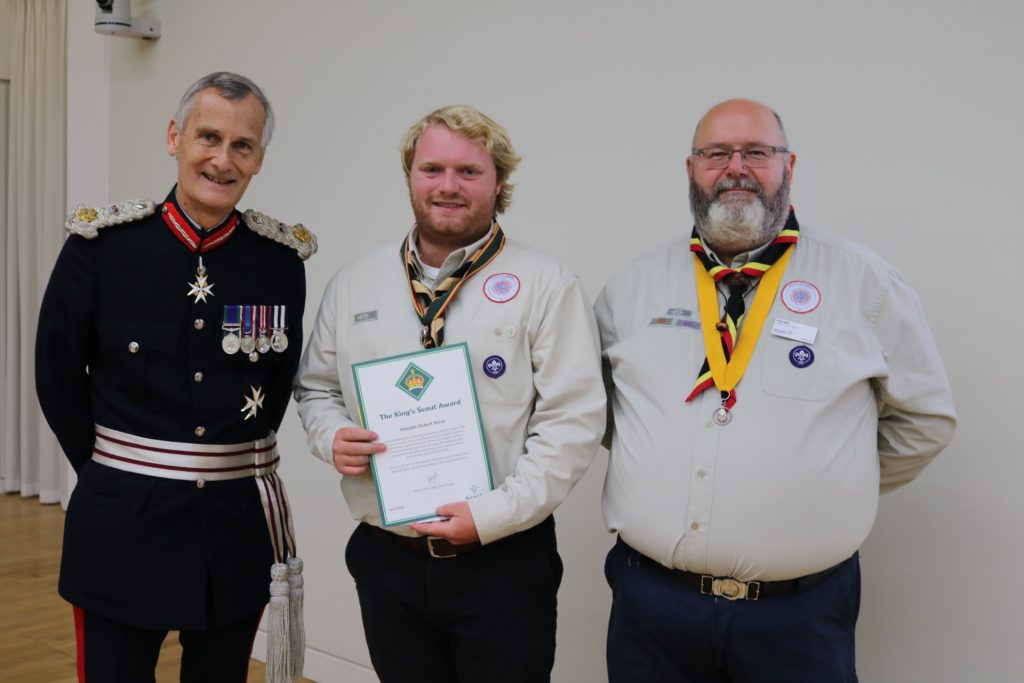 It would genuinely be impossible to pick a highlight. Something as simple as renovating our Scout hut, some nights until midnight, and being able to stand back and have that good feeling of giving back to your own Scout group which has helped me my entire life. Our leaders are role models and such an inspiration and being able to help the next generation is such a good feeling.

Working towards the King's Scout Award is a massive eye opener and encourages you to take on other opportunities you wouldn't try otherwise and being somewhat forced into those challenges helps you find the things you enjoy for the rest of your life.
Hampshire Scout's final Queen's Scout of the evening was Ruthie Quinn of Hawk district, which covers Havant and Waterlooville. About her award, she said: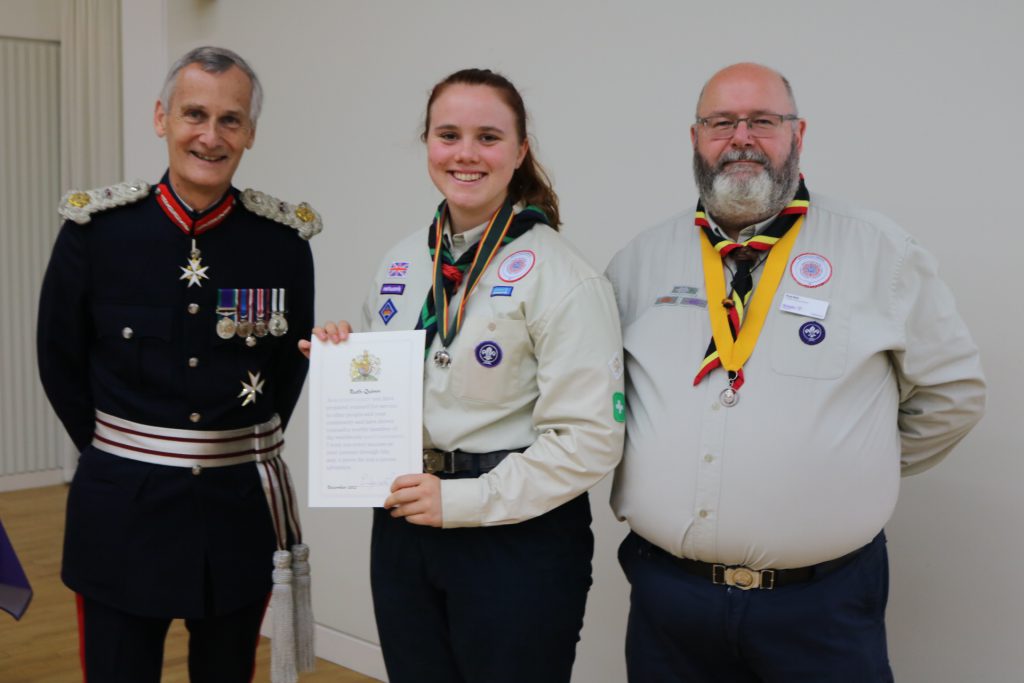 I really enjoyed running the section evenings in my old scout group. It was really good to go back and connect with the young people and tell them about international scouting. A real highlight was the evening I ran where they made monuments out of cake with the Great Pyramids, Taj Mahal and the Easter Island heads all making an appearance. Doing the DofE challenges took me to Exmoor, which is such a different terrain to what I'm used to in the South Downs, and allowed me to connect with other people my age outside of school.

It was a nice way to complete and close my Scout journey, ending on a high, which you can show to others. It allowed me to meet other people including at [the National Day of Celebration in] Windsor and see what journey they took to get their award.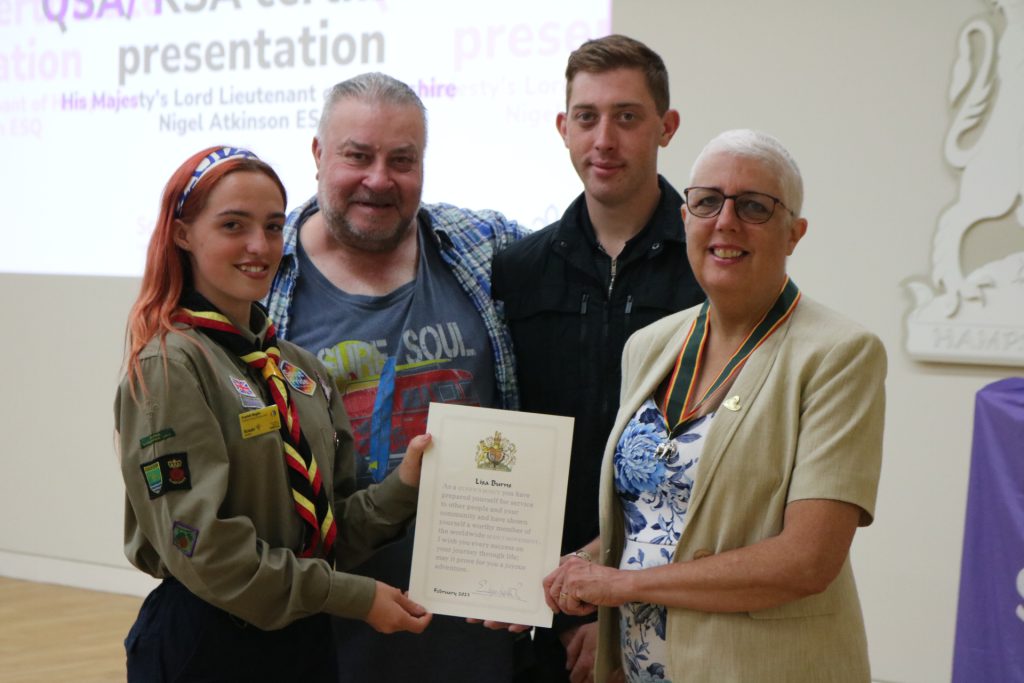 It also saw a very emotional and personal testimony from Scarlett Bugler at the presentation of the Queen's Scout Award for Lisa Burns. Scarlett had known Lisa well including several weeks on Suisse Adventure in the Summer of 2022 which Lisa had used for her Residential challenge. Very sadly, Lisa passed away later in 2022, a great loss to all who knew her and to Scouting. Her well deserved award was presented posthumously to her parents.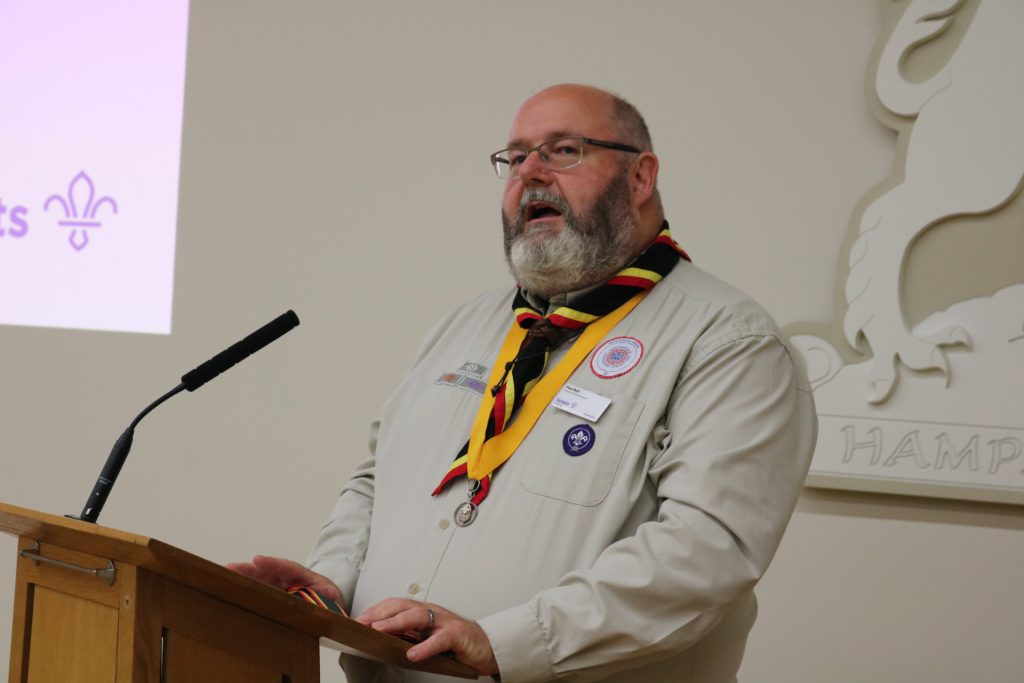 Lead Volunteer for Hampshire Scouts, Paul Bell said:
I would personally like to thank everyone who supported our young people and worked around your adventures. Please promise yourself that this is only part of your life's journey and that you will keep trying new challenges and shout about your achievements. Well done to you all.
There is one element of this presentation which is unique to Hampshire. All those who had reached the top wore a special Silver Elephant while receiving their award, an emblem that is very rare in the UK. It formerly belonged to Lord Louis Mountbatten and has been worn by Queen and King's Scouts for decades. Find out the full story on the Hampshire Scout Heritage site.
After the presentation was over, everyone networked and shared their stories of how they achieved their awards. However throughout there was praise, including from the parents, for the many volunteers who inspired and chivvied their young people to complete their dreams. From one parent: "This night is as much about the leaders as the young people - you should all be proud."
Volunteer and make a difference today at hampshirescouts.org.uk/volunteer.
Images: Sam Poole. Text: Steven Osborn.