Two Scouts from Eastleigh and Sholing have done their best and earned every challenge and activity badge, mastering over 50 skills between them.
Their dedication to achieving the awards and learning new skills for life has seen them recognised by volunteers locally as they re-joined their friends at Scout meetings.
Harry's the leader of the pack.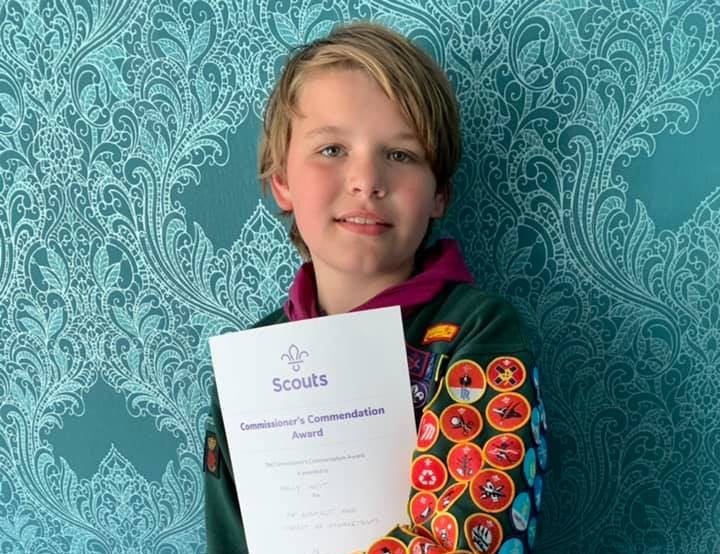 Our Cub Scouts are always an active lot at the best of times, making a promise to themselves to do their best. Harry however went above and beyond what we could ever hope for our young people. During his time in Cubs, including in lockdowns and time at home, he earned a badge for all 37 individual skills and 15 staged activity badges for the skills we develop throughout our times in Scouting.
And to top it all, he's also earned all seven challenge awards and his Chief Scout's Silver award. It's the highest programme award in Cub Scouts.
"I felt excited to have achieved all my badges and very proud of myself and hoping for a new challenges of getting all my Scout badges when I move up soon".

Harry
So which of the many skills did he enjoy the most? As Harry idolises sailing hero Sir Ben Ainslie, it was the sailing and nautical skills staged activity badges.
With such an amazing effort, volunteers from Eastleigh Scouts wanted to celebrate in their own way. So it was only right that lead volunteer for Eastleigh, Colin Floyd, visited Harry's pack at the 7th Eastleigh (2nd Fair Oak). Once there, he presented a special Commissioner's Commendation Award to him - a rare award indeed for a young person to achieve and awarded for good service.
Toby tries his best.
Harry however was not the only Scout to aim high however. Just a few miles away at the 14th Itchen South (St. Mary's) Beaver Scouts, the young people were having fun making armpit fudge and cheesecake. For one Beaver Scout however, this was old ground. He'd already earned the badge.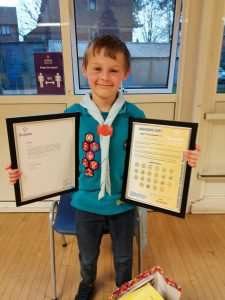 Toby, a seven year old Beaver Scout, had been using lockdown to try new skills as well. By the time he had returned to see his friends again he had completed all 22 Beaver Scout activity badges, the six challenge awards and the top award for Beavers, the Chief Scout's Bronze Award.
For someone so young, this once again shows amazing dedication. It's only right this was recognised by a special certificate from the lead volunteer of Itchen South.
From all of us at Hampshire Scouts, we applaud the dedication shown by both young people. You are truly showing us the best of what Scouts can be and the skills our Scouts can learn.
Find a local group to kickstart your Scouting journey or find out how volunteering is good for you.