This summer, the streets and shop fronts of Winchester and Southampton will be brightened up by the sight of over 70 sculptures of hares and leverets. And Hampshire Scouts have been behind the designs of three of them.
Meet our leverets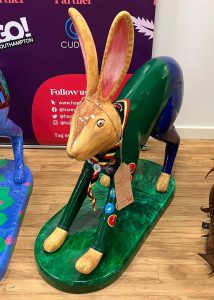 Robert
Say hello to Robert, the first of our leverets. He is a proud Cub Scout who has earned lots of badges and likes showing them off.
Wearing their Cub Scout jumper, covered in badges, and with one of our very special county neckers. Plus with a name like Robert, just like Scouting's founder, it shows off both the best of our past and present.
You can find Robert in Winchester in the Café of The Arc (formerly Winchester Discovery Centre) for the next ten weeks.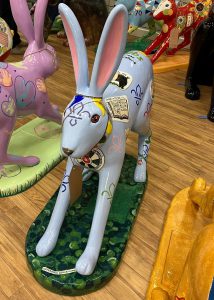 LeeVee
LeeVee is the second of our leverets and came about from a design competition involving Cub Scouts from across Hampshire.
The competition was won overall by Charlie from Eastleigh, along with design contributions from Maddie from Portsmouth and Elisabeth from Chandlers Ford. The design was brought to life by Andover based artist and Cub Scout Volunteer, John Ritchie.
It includes lots of clues to icons of Hampshire, from Jane Austen's House to watercress and the Round table that can be found in Winchester Great Hall. Fittingly, you can find LeeVee in the Great Hall of Winchester for the next ten weeks.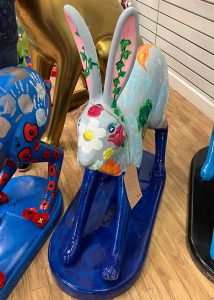 Jacob
The third, and final, leveret is Jacob. He was designed by Beaver Scout Joe from Eastleigh and is inspired by the four elements of Earth, Fire, Wind and Water.
He was brought to life by 30 young artists under the guidance of local artist Sally Goodden. She also created the larger Hare sculpture Oriana at Holyrood Church in Southampton which we consider the aunt of our three baby leverets.
Jacob can be found at the Ballet Point shop, Brooks Centre in Winchester for the next ten weeks.
Why did we get involved?
The Leveret project has been led by Michael Collins, one of Hampshire Scout's lead volunteers for Beaver Scouts. The trail is being run by the Murray Parish Trust, a local charity which works to advance emergency paediatric medicine in the South of England. Our Beaver Scouts have been supporting the Trust for many years through the Teddy Bears Picnic event so it seemed right that we get involved in this exciting trail.
Our Scouts are always at the heart of their community so we're proud to be a part of this great artistic community event for thousands across the South.
Get involved
The best way you can get involved is to take to the streets and go out spotting. When you spot any of our three leverets why not tag us on social media? Use #HSLeverets or find the leverets directly on Twitter of Instagram at @HSLeverets
Hampshire Scouts can also get a special badge for the trail, details of that can be found on our Members site.